TPA 2023 Workhorse of the Year - David Wilds
David Wilds has been with Koch Foods in Morristown, TN for the past 21 years and has been the complex manager for almost 20 years. He began serving on the TPA board of directors in August 2012 and has been a valued board member ever since.
David's support of the industry, combined with his great leadership qualities, quickly positioned him to start serving on the TPA executive committee in August 2017. He served as our President in 2018-2019 and is on track to fill that role again in 2024-2025.
David has been an invaluable asset in supporting the TPA office over the past ten years, helping sort through state legislative concerns that could possibly negatively affect the poultry complexes and processing plants in TN. He has been our main go-to person for quick and thorough reviews of legislative concerns, and that support has been greatly appreciated and respected.
Additionally, David has brought in auction items, event sponsorships, and several new allied members for TPA over the years. He also encouraged his complex's purchasing manager, Tina Hurley, to assist with these efforts. As a result, Tina was recognized as the high producer of donated auction items and new sponsorships for the TPA Annual Meeting & Summer Getaway from 2018-2022. Congratulations to David on this much deserved honor.
---
TPA 2022 Workhorse of the Year - Jeremy Martin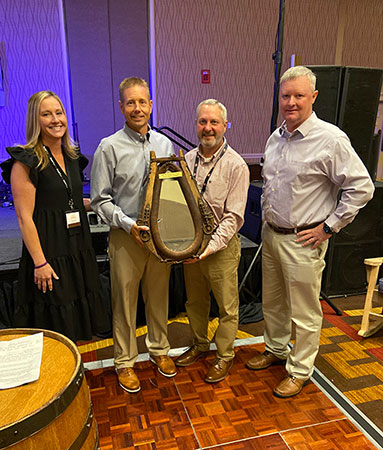 At the 2022 TPA Annual Meeting & Summer Getaway, Aviagen's Regional Business Manager for North America Jeremy Martin received two separate accolades. Based on his tireless service to the Association and to the industry, he was honored with the TPA 2022 Workhorse of the Year award. And, serving as 2nd Vice President in 2021, Martin was appointed as 1st VP. Jeremy has served Aviagen North America for nearly a quarter century and has been on the TPA Board since 2019. He also chairs the TPA Scholarship Committee and has been active on the Live Production and Auction committees. In addition, he supports the service tech meetings, the scholarship reviewing and selection process, the annual meeting and events, and various fundraisers. He works closely with Tennessee universities to help develop their poultry programs and get more students excited about the industry.
"Jeremy has been extremely active with TPA and makes himself available to us whenever his skills and advice are needed. He is energetic, enthusiastic, and supportive and knows how to get things done," said Dale Barnett, Executive Director of the TPA.
"More importantly, he was chosen for his passion for poultry and going above and beyond to contribute to the sustainability of the industry in Tennessee and beyond."
---
TPA 2021 Workhorse of the Year - Tracy Rafferty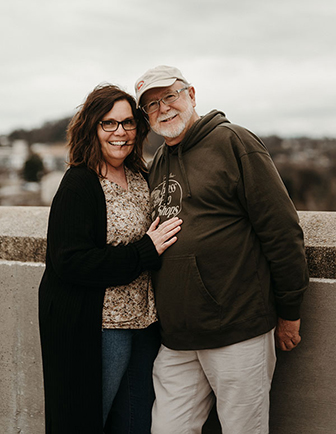 Each year TPA recognizes a Workhorse of the Year. Last year the recipient was Brian Johnson with Cumberland Poultry. Brian served on the Board of Directors from 2016-2021 and is credited with being very involved in assisting UT Martin in retrofitting a facility to grow broilers for teaching and research purposes on their university farm. He was additionally very instrumental in helping the ag program at TN Tech University with the planning and construction of their new 2.1-million-dollar teaching and research facility that is to be completed by the end of this year.
This year's recipient of the TPA Workhorse of the Year is a person that we all know, love, and greatly appreciate. Without this person, the association would not be where it is today, and many of our events and activities would not be possible as we know them to be. This person attended the University of KY and majored in marketing and had a very extensive work history in the health insurance and telecommunications industries before coming to TPA. Yes, this year's Workhorse of the Year is Tracy Rafferty, TPA's Membership Services Director. Tracy started working for TPA in November of 2013, and what a Godsend she has been for the Association. Everyone knows Tracy, loves talking to her and having her assist however needed.
Dale comments that it is not unusual for him, when he answers the phone at the TPA office, to detect right off when a person really wants to talk to Tracy! This does not bother him a bit, and he readily offers to hand them over to her. This allows him to get back to whatever his head was buried in, and Tracy then best takes care of business while continuing to build even stronger working relationships with our members.
As a result, allied memberships for the association have greatly increased since Tracy came on board, and our sponsors and vendors really enjoy working with her. Always smiling, it is great to see so many of you greet her at our events where she makes everyone feel welcome and appreciated. Our growers also know they can get answers when they call the office and are comfortable asking for assistance.
This very TPA quarterly newsletter has grown from what used to be only a few pages just ten years ago, to an average of 60 pages now. Tracy is the one that pulls it all together and lays it out, works with the advertisers, does a lot of the graphics and designing and meets our deadlines. She is an incredible editor who is especially good for TPA, for any of you that know Dale know that while he can pull ideas and materials together, he did not make A's in his writing classes! She loves tossing out the bulk of his unending commas and helping things to read better for us all. Thank you, Tracy! (Dale adds that if anything in this article doesn't read as well as it could have, that's because she didn't get to edit it!) Every sign, every poster, every printed piece and every eblast that comes from TPA is her skilled and efficient handiwork. When important letters and documents go out of the TPA office she has helped looked them over carefully for both content and messaging. She is also great at reviewing contracts and agreements for our events, and she stays on top of all insurance needs and concerns for the association.
Tracy is further credited for accepting the TPA board's challenge several years ago to have a sound and professional social media presence for the association. She got busy and created well-visited and respected Facebook and Twitter accounts for TPA and oversees the website maintenance and updates. Always professional, always informative, and always timely in everything that she does! And, oh, did we mention that she lines up the great entertainment for the banquet at the TPA annual meeting each year?! Tracy starts working on finding up and coming artists each year and gets them booked for us many months in advance.
Probably the most invaluable contribution that Tracy does for TPA is that in keeping our books. She handles and enters every transaction into QuickBooks, generates and processes all invoices and statements, balances the check register, reconciles credit card statements, generates monthly reports, and works with our accounting firm to see that our taxes get filed annually and our non-profit status stays in good graces. She's also great at processing payments over the phone and is why so many enjoy calling to let her do so.
---
TPA 2020 Workhorse of the Year - Brian Johnson, Cumberland / GSI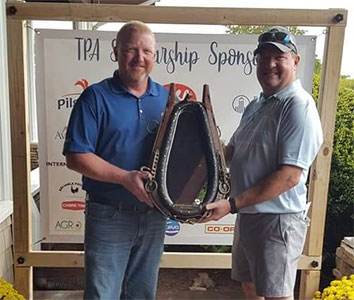 TPA is proud to announce Brian Johnson as our 2020 Workhorse of the Year. Brian became a TPA board member in Aug. 2016 and has been active from the start. He served as our Secretary/Treasurer last year and is currently our 2nd Vice-President.
Brian has been with Cumberland/GSI with the AGCO group since 2007 and is currently a district manager. Originally from Georgia, Brian moved to KY in 1995, and has lived in Franklin, KY since 1997. He and his wife have four grown children.
Brian was very instrumental in getting Cumberland equipment donated, and the project completed by March 2019, at UT Martin where they retrofitted a former slatted hog farrowing house into a broiler grow out house for training students. UT Martin now contract grows a flock each semester for Tyson in Obion Co. and a lot of students are getting first-hand experience and jobs in the industry as a result.
Brian has also been very involved in working with TN Tech to help them get their poultry facilities designed, the right equipment selected, and the project out for bid. In 2017 he took a group from Tech and the state down to Auburn to the NPTC to see their facilities and he's worked closely with them ever since to see this project to completion, hopefully by next spring.
---
Chynette Todd is TPA's 2018 Workhorse of the Year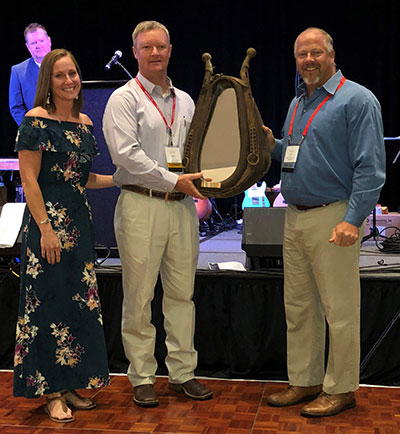 The Work Horse of the Year recognition for 2018 was awarded to Chynette Todd on Aug. 4th during the Annual Meeting in Nashville.
Chynette has served on the TPA Board of Directors since 2008 and was President from 2015-2017. She continues to serve on the grower committee, auction fundraising committee, nominating committee and executive committee for TPA as the interim secretary/treasurer.
Very notably, Chynette coordinates and heads up the sporting clays events for our spring scholarship fundraisers and annual meetings, which continue to grow in success each year. She has been very instrumental in the success of the auction fundraising efforts over the years as she is very involved with their planning and execution. Chynette moderates the silent auction during the annual meeting and brings excitement and organization to such a great evening.
During the awards presentation,
immediate past president Scott Black stated that Chynette Todd is inarguably the most passionate and enthusiastic when it comes to TPA and it has shown through her actions and dedication over the years. She has always thrown out ideas and has always challenged the way we thought and how we conducted business.
TPA's 2017 Workhorse recipient Shane Joyner, and the 2016 Workhorse recipient Scott Black, made the special presentation to Chynette, with TPA Board member Bart Smith moderating.
Just recently employed by SunCoast Pine Shavings, and additionally self-employed with CT Consulting, Chynette and her husband Andy live in Cookeville, TN along with her daughter, Aubrey.
Congratulations Chynette, and many thanks from TPA for your dedication and many contributions!
---
2017 TPA Workhorse of the Year - Jay Daniels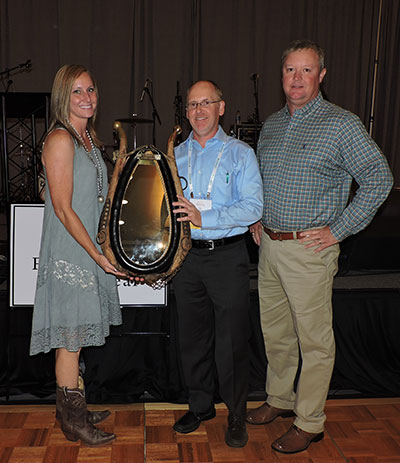 2017 TN Poultry Association Workhorse of the Year recognition
TPA's Workhorse of the Year was awarded to an individual who has been involved in almost everything that TPA has ever done since he has been involved with TPA. You don't have to be around this person very long to know that he is a very talented individual who has really served TPA above and beyond what we could ever ask of him. He is a wealth of knowledge and is full of great ideas and solid advice. He is the person that we often turn to in making best decisions for the association.
Not only did Jay Daniels jump right in to begin serving as the Secretary/Treasurer when he became a board member in 2010, but he has helped tremendously to bring in new sponsors, new allied members and support for the various fundraisers. Most notably, Jay has contributed most significantly in helping to set up and establish the TPA office in Shelbyville in 2012, and to get the accounting procedures and budget in place that is working so well for our association today. He worked very closely with staff at that time, and he took the time from his busy schedule to work with them in person and at the office until all was running smoothly. Jay was also directly involved in the interviewing process when we hired Tracy in Nov. of 2013, and we all know what a great decision that has been.
Jay has been Director of Operations for the Americas since Oct. 2006 for Hubbard, LLC in Pikeville and he has served on Hubbard's Global Management Committee. Additionally, he has served as past-Chairman of Hubbard Farms Charitable Foundation and he continues serving as a trustee. Moreover, Jay has served as a Board member for the US Poultry & Egg Association, and he is the current Chair of the Pikeville-Bledsoe Co. Chamber of Commerce.
TPA proudly recognizes Jay Daniels as our 2017 Workhorse of the Year - he's certainly a man that gets things done and takes pride in everything that he does. We additionally look forward Jay's leadership and continued wisdom as our next President for 2017-2019, and the level of energy and excitement that he brings to the association.
---
TPA Recognizes Shane Joyner as the 2016 Workhorse of the Year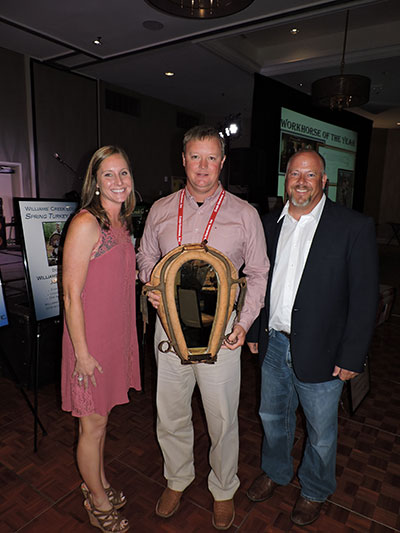 Shane Joyner, Live Production Manager for Tyson Foods in Obion Co., came onto the TPA Board a year ago and has been doing amazing things for the Association ever since. Not only did he jump right in to begin serving as the Secretary/Treasurer, but he has helped tremendously to bring in new sponsors, new allied members and auction items for the fundraiser. Shane has been very active on TPA's Live Production Committee in planning the grower meetings and in lining up speakers. He additionally has been very aggressive in lining up plans and commitments for the proposed broiler research house to be built at TN Tech University, and he has been working closely with the Ag program at UT Martin to promote poultry industry opportunities for their students.
Shane has additionally, and amazingly, had the winning TPA Farm Family of the Year nomination under his leadership for the Tyson Obion complex four of the seven years that TPA has been awarding this recognition. TPA proudly recognizes Shane Joyner as their 2016 Workhorse of the Year - he's certainly a man that gets things done.
---
2015 Workhorse of the Year Winner Scott Black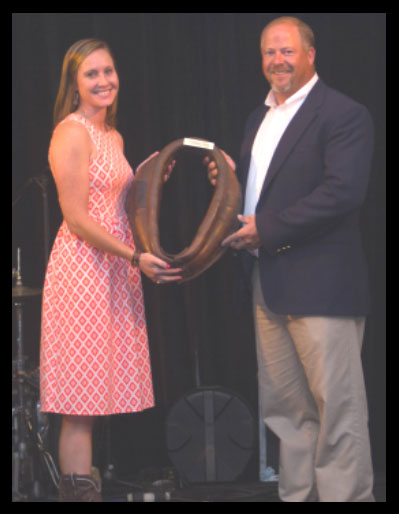 TPA Past-President Scott Black accepting his Workhorse of the Year award from TPA President Chynette Bandy at the 2015 TPA Annual Meeting & Summer Getaway
Workhorse of the Year

2016 - Shane Joyner, Tyson Foods Obion
2015 - Scott Black, Cobb-Vantress
2014 - Dale Carroll, Lee Energy Solutions
2013 - Eric Killen, The Vincit Group