Each year, TPA proudly pays tribute to its outstanding growers and farm families in TN by recognizing a TPA Farm Family of the Year as nominated by their respective complexes.
The selection process of course is not easy as TPA receives many outstanding nominations each year representing the best of the 500 family farms with poultry operations across the state. Five industry professionals, including three TPA Hall of Fame inductees, served on the selection committee.
Located in the northwestern part of the state, just west of Union City, Bobby & Lori Berner receive this year's honor as the 2016 TPA Farm Family of the Year. Established in 1997, Berner Farms started out with 4 broiler houses for Tyson Foods in Obion Co. and later added two more houses in 2004. With a target weight of 7 lbs., which typically takes their birds 51 days to achieve, the Berners have been the top broiler grower of the year and have been "top ten" producers numerous years for their complex.
The Berner's have been environmentally very pro-active with their farm's conservation practices and with respect to energy savings projects in their houses. In 2012, they retrofitted their original four houses which resulted in the temperature variance being reduced from 5 degrees to 0.5 degrees. This obviously has greatly reduced their propane costs and carbon footprint. They take pride in being a sustainable and neighbor-friendly poultry farming operation.
Berner Farms annually hosts a tour of community business leaders at their farm, under the guidance of Tyson Foods. This gives community leaders a glimpse of what they do on their poultry farm, and gives them a chance to stress the importance of the additional biosecurity measures they have in place as well.
The Berner's also have a cow-calf operation that has had a big role in raising their three boys. Kyle works locally, Rob has a degree from UT Martin in animal science, and Blake is a current student at UTM majoring in Agri-Business. Bobby and Lori are still actively involved with their local 4-H and FFA programs. The goal for the Berner's is to have the opportunity to pass on a respectable farming operations to their sons someday.
"The Berner's have been a part of our Tyson Obion County Complex family since the beginning. They are a very agricultural based family, who instill a great work ethic. They are pillars of the poultry industry in our area and do a great job of being Stewards of the Environment. We are proud to have them on our Tyson TEAM."

Shane Joyner, the live production manager for Tyson in Obion Co.
Broiler manager, Rob Brown, and the Berner's service technician, Jennifer McWherter were also present for the award recognition in Nashville during TPA's Annual Meeting, this past Aug. 6th.
Two other farm families were additionally recognized for their accomplishments as outstanding growers in TN this year. TPA recognized the Massengale Farm in Rhea Co. as one of TN's most outstanding family farms for the year. Don & Karen Massengale own and operate Massengale Farm and have two contract primary breeder layer houses for Hubbard LLC.
This farm has amazingly been in the family since 1904, and operated formerly as a dairy for much of its history. It is proudly designated as a Century Farm. The Massengale's additionally have a cow/calf operation specializing in freezer beef; raising their own hay and corn crops in doing so. Don & Karen have a 12 yr. old son, Brandon, and Don additionally has two grown children.
With the ultimate in biosecurity practices being at the forefront of this shower in and shower out operation, the Massengale's have repeatedly exceeded Hubbard's production standards. Their very first flock of GP birds produced 20 eggs over expectations and consecutive flocks consistently perform 10+ eggs over the standard. Don & Karen additionally have an environmentally friendly rotary EcoDrum composter for handling their mortalities, and have been host for multiple tours for Hubbard's international business partners from around the world. The Massengale Farm was nominated for Hubbard by Mark Harmon, Director Production, and David Garrison, Breeder Manager.
TPA next recognized Ryan & Tammy Russell, who own and operate Makin' Chicks and Back Forty farms near Red Boiling Springs in Macon Co. Ryan & Tammy are 5th generation farmers and live & farm on land originally settled by Ryan's great-great grandfather.
The Russell's raise pullets for Cobb-Vantress, Inc. with each farm having two 66 x 400' houses. Each house is set up with 2 female and 2 male pens. The Russell's go above and beyond Cobb's basic biosecurity guidelines. Neither Makin' Chicks nor Back Forty have ever scored below 100% on Cobb's extensive biosecurity and animal welfare audits. All 31 of their flocks have been raised salmonella and disease free on both farms.
The Russell's have two sons, Ethan and Trevor. Ethan, who is married to Kelly, is a full-time farmer and helps run the daily operations. Trevor and his wife Lindsay, who both attended TN Tech University, both work for Tyson Foods as broiler techs in Robards, KY. The Russell's also maintain over 200 head of cattle, as well as hay, wheat and tobacco crops. Makin' Chicks and Back Forty Farms will become Ethan's and Trevor's respective farms someday when their parents retire, in which they will both carry on the family tradition as 6th generation farmers and landowners.
TPA proudly recognizes the Russell family for their outstanding nomination and accomplishments in the poultry industry on these two family farms. Lafayette's complex manager, Randy Yates, and service tech, Kyle Richey, were additionally recognized for their nomination.
Daniel & Katheryn Newton of Newton Poultry Farms, Ardmore, TN (2015)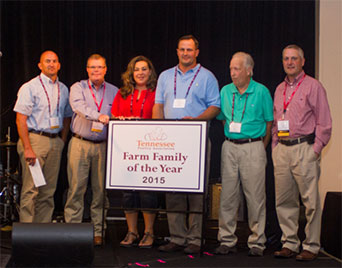 (Photo) Katheryn & Daniel Newton pictured with Tyson Foods Shelbyville representatives Marshall Miller, Tom McCue, Pete Collins, and Andrew Blair
Daniel & Katheryn Newton of Newton Poultry Farms, Ardmore, TN were recently recognized as the 2015 TPA Farm Family of the Year by the TN Poultry Association during their Annual Meeting & Convention in Nashville. The Newton's were the unanimous winners as selected by a committee of leading poultry experts and professionals that reviewed all nominations received from across the state of TN.
The Newton's have four broiler houses and have been growing chickens for Tyson Foods, Inc. out of Shelbyville, TN since 2010. As consistently top producers maintaining above average performance, the Newton's have been remarkably recognized by Tyson as one of their top five broiler producers each year for the entire Tyson Shelbyville complex. In 2012 they furthermore received from Tyson the Poultry Complex Environmental Award, and in 2013 and 2014 they received Environmental Stewardships Awards.
The Newton's additionally raise wheat, soybeans and corn on their farm, which additionally features the original homesteaded house that is well over 100 years old. They are proud to carry on the tradition of the family farm way of life along with their son Baylor (6) and Daniel's two boys, Garrett (14) and Kaden (12).
The Newton's are proudly active members at the Elkton Baptist Church in Elkton, TN and in addition to being members of TPA, they are members of the TN Cattlemen's Association. Katheryn is a Physical Ed and Science teacher at the Ardmore, AL high school and she additionally serves the community coaching middle school volleyball and a six and under summer league baseball team. The Newton's are proud supporters of St. Jude's Hospital and the local volunteer fire department.
The poultry industry in TN is proud to recognize the Newton's for their accomplishments both on the farm, and in their community.