2019 NextGen Young Leaders Under 30 Recognition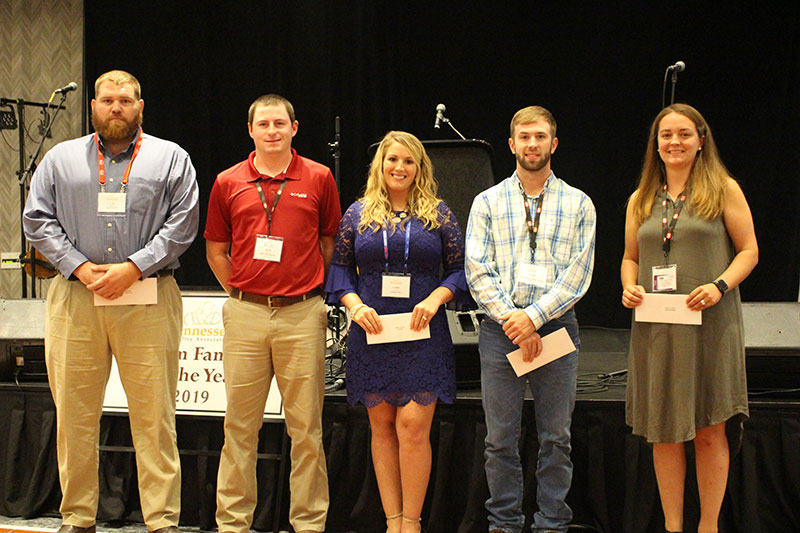 TPA's "NextGen - Young Leaders Under 30" recognition program was started in 2018 to engage and invest in young professionals who work for TPA-member poultry companies that are directly involved in poultry production or processing. The following young leaders were recognized at the August 3, 2019 TPA awards banquet in Nashville.
---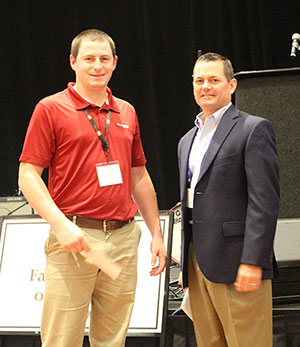 David Kraft is the Pedigree Production Manager for Cobb's Dry Creek Pedigree Complex in Deer Lodge, TN. David is originally from Franklin, TN and is a December 2016 graduate of MTSU with a degree in Animal Science. He is also a former TPA scholarship recipient! David has been with Cobb for a total of 3 years, with the last 2 being at Dry Creek. Nominated by Dry Creek's Complex Manager Joshua Morris, David is recognized for being a "go-getter" and for being quick to address issues that arise, not hesitating to go above and beyond. Joshua goes on to say that David is very dependable and is a go-to person to get things done when special circumstances arise.
---
From the Tyson Obion Complex in Union City, Dylan Crain was nominated by Live Production Manager Shane Joyner. Dylan is originally from Dover, TN, is an Animal Science graduate from Murray State and now lives in South Fulton. Dylan joined Tyson in January 2017 as a Live Operations Trainee, then worked as Hatchery Supervisor for a year before being promoted to Hatchery Manager in January 2019. Shane is quick to point out that Dylan has been a team player since day one, noting that he does not back up from any challenge. Shane is especially proud of Dylan's daily drive and fearless mentality to manage, having the true characteristics of a leader.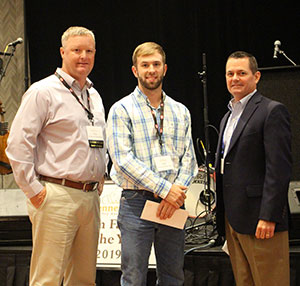 ---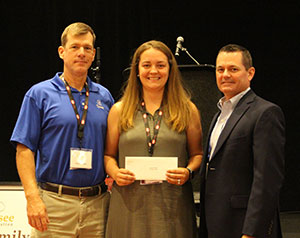 Mary K. French is the Hatchery Manager for Tyson's Keystone Foods Division in Franklin, KY. Mary graduated from Western KY in 2013 where she majored in Ag Sciences, and now lives in Scottsville, KY. Mary has been with Keystone for 5 1/2 years and was nominated by the complex's Breeder Manager Tim Cook. She started out as Hatchery Supervisor and became Hatchery Manager in Franklin in February of this year. Tim informs us that Mary is highly dependable and hardworking, and she works extremely well as a team member with other employees and departments. Furthermore, being very dedicated and detailed at her job led to her recent promotion.
---
Nominated by David Wilds, Complex Manager for Koch Foods in Morristown, TN, Colt Carpenter has been with Koch for 3 years. He first started out as a supervisor in the Morristown deboning plant and now serves as their Assistant Live Haul Manager. He is a 2016 graduate of TN Tech University where he majored in Animal Science and Ag Engineering. Originally from Mohawk, TN in Greene County, Colt interestingly had already gained invaluable experience with trucking and logistics from working with his family's business. David is very complimentary of Colt's maturity and skill as a supervisor, and further states that Colt's demonstrated leadership and the respect of his peers and hourly team members is certainly to be commended.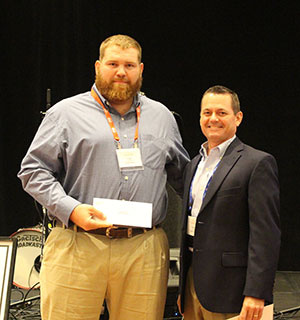 ---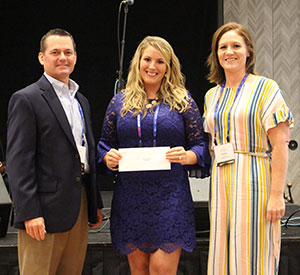 Aviagen's GP Pullet Manager in Elkmont, AL, Caitlin Coriasso was nominated by Elkmont's GP Operations Manager Michelle Rowlett. Caitlin has been with their complex for 5 years. She graduated from Alabama A&M in 2013 where she majored in Animal Science. Caitlin began her career in the poultry industry as a GP Pullet Specialist, then later in 2017 changed her focus and stepped into the role of Vaccination Supervisor for the GP vaccination team. Caitlin was welcomed back into the Elkmont production group in March of this year as their Pullet Manager. Michelle readily acknowledges that they are extremely proud of Caitlin for her hard work and dedication to ensure that Aviagen is providing their customers with the quality product that they deserve.
TPA Recognizes Young Leaders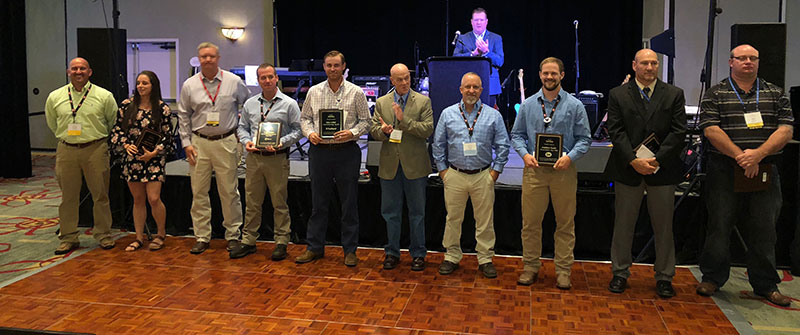 TPA started a new program this year to recognize up and coming leaders under 30 years of age from our TPA member poultry companies and complexes.
This recognition program was the idea of our immediate past-president Jay Daniels, as he strongly believes in encouraging young leaders to continue to strive for excellence by recognizing their contributions to the industry early in their careers. There were six outstanding young leaders recognized in Nashville during the Annual Meeting on Aug. 4th for this inaugural year.
Daniel Long with Aviagen, Inc. was the first to be recognized for this honor. From Faulkville, AL, Daniel was nominated by Keith McCay, VP of Operations for Aviagen, Inc. Daniel graduated from Auburn University in 2010 with a B.S. in Poultry Science. He has worked in GP's, GGP's and Pedigrees and is currently the Quality Assurance and Regulatory Manager for Aviagen, Inc. at the Elkmont, AL and Crossville, TN locations.
Keith states that "Daniel has had many contributions, however his leadership and support during the Compartmentalization Certification process showed his ability as a leader. Daniel's success in life can be attributed to a solid foundation. He conducts his life at work and home in the same moral and ethical way. Daniel serves as a Deacon at his church and he is a 2nd Lt. in the AL National Guard. It's an honor to recognize Daniel for this recognition, but an even greater honor to work beside him!"
---
Next to be recognized was Matthew Butler with Cobb-Vantress, Inc. in Lafayette, TN. From Henderson, TN, Matt has a BS in Ag Engineering from TN Tech University. He is a Service Tech II for the Lafayette, TN operations and has been with them one and a half years. Matt was nominated by Randy Yates, Associate Director of Production.
Randy shared that "Matt has been a great addition to the team in Lafayette as he currently holds the #3 spot for their service tech ranking, out of 20 service techs, where the average years of experience is 8-10 yrs."
Randy first met Matt at a TN Tech Univ. career fair and Matt did an internship with them in 2016. Upon graduation in Dec. 2016, Randy offered him a service tech position, and to his knowledge, Matt is the first person to ever be hired directly into this position by Cobb straight out of college.
Randy says that "Matt is proof that millennials can do the job, and that if we aren't careful they may just do it better!"
---
From the Hubbard/Aviagen complex in Pikeville, TN, Nate Collette was recognized for his outstanding leadership as their Assistant Production Manager. Nate is from Cookeville, TN and has been with Hubbard for six years. Nominated by Mark Harmon, Director of Production.
Mark states that "Nate is knowledgeable in all phases of operations. He is technically advanced in relation to production data, and his contract grower and company personal relations skills are advanced for his age and experience."
Mark then went onto say that overall in his opinion,
"Nate is one of the most productive and advanced individuals he has seen at this stage of his career."
Nominated by James Bradford III, Complex Manager for Pilgrims Chattanooga, Andrew Keith was the next young leader to be recognized during the presentations. From Dalton, GA, Andrew is a Shift Manager in Chattanooga and has been with Pilgrims and in this position for four years.
According to James "During Andrew's time with Pilgrims he has excelled at leading his team of supervisors and has been a key contributor to our organization. He continues to grow as a leader on the production floor daily. He makes sound, unbiased, honest decisions based on what is best for our business, which is what helps us continue to be successful with key customers".
Cody Perkins with the Tyson Obion complex in Union City, TN was then recognized as their outstanding young leader. Cody is from Dresden, TN and has been at Obion for all three of the years he has been with Tyson. Nominated by Shane Joyner, the complex's Live Production Manager, who informed everyone that Cody joined the Tyson live production team in 2015 and
"has stepped up to the challenge every day." stated Shane Joyner
Cody has been promoted twice in three years, is currently a Broiler Tech II and has also been given the title of Complex Housing Coordinator. With the complex currently getting ready to build over 220 houses, Cody has the responsibility of recruiting new growers and overseeing all construction for the complex.
Shane further stated that "Cody is very detailed and continues to grow and Tyson is very proud to have him on our team."
From the Tyson Shelbyville complex, Julie Clanton was nominated by their Live Production Manager, Marshall Miller. Originally from Humboldt, TN, Julie is currently the Live Haul Manager in Shelbyville and has been with Tyson and at this location for two years.
Marshall informed everyone that "Julie is a very hard working individual. She works very well with those around her and she expects 100% out of those that work for her. Julie coordinates and handles all of the scheduling for the hauling of live birds to the plant and works with the contractors on catching and hauling the live birds. She showed her talents by stepping up and filling in positions when managers were out on leave and things never missed a beat, and even got better in some respects!"
Marshall went on to say that "Julie has a bright future with Tyson Foods and that Tyson Shelbyville is proud to have her on their TEAM."